18 March, 2021
Life Sciences Space Experts
The High Technology Facilities Group brings over 30 years of commercial real estate expertise supporting BC's LifeScience sector.  We have completed over 1,400,000 Sq. Ft. of transactions across the Lower Mainland and internationally for small and large companies, notable clients such as Change Healthcare, Surgical Specialties, LifeSciences BC, Stemcell, and more. To see a selection of recent transactions and other clients represented, click the button below to download our report.

Our expertise in life sciences real estate deepened during the pandemic. Over the last 18 months, we've found space for multiple thriving companies including VanRX, Xenon, Genevant, Chinook Therapeutics, and more. A selection of our recent transactions shown below.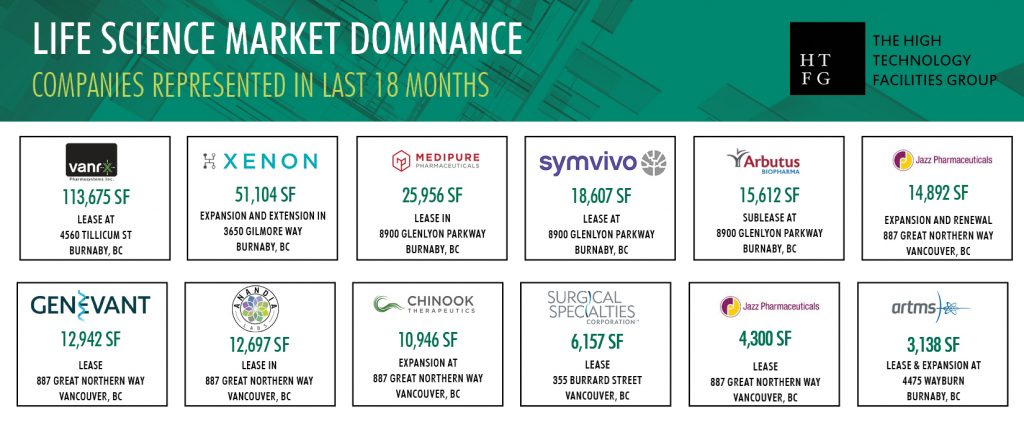 We are passionate about growing BC's life sciences industry and want to help you find the space you need. Contact us if you want to learn more! 
Blair T. Quinn*
Vice Chairmain
T 604 662 5161
blair.quinn@cbre.com
Kevin Nelson*
Executive Vice President
T 604 662 5155
kevin.nelson@cbre.com
Alain Rivère*
Associate Vice President
T 604 662 5110
alain.rivere@cbre.com
Andre Alie Day
T 604 662 5137
andre.alieday@cbre.com