Resilient tech demand persists
San Diego tech sectors of robotics, drone, MedTech, CleanTech, gaming and software continue to expand their footprint.
Several media companies are expanding in Santa Monica and positive absorption in Los Angeles is continuing to drive up rental rates.
Sublease availability in Silicon Valley is rising due to increased M&A activity and "rightsizing" of larger tenants while demand for space under 20,000 sq. ft. remains very active.
Stable market conditions supported by resilient tenant demand in San Francisco is keeping rents and vacancy flat.
Nearly 1.5 million sq. ft. is under construction or renovation in Portland.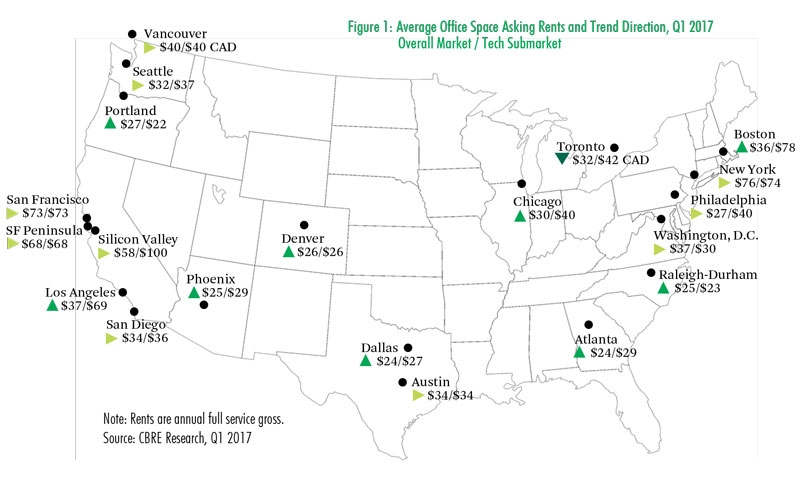 Tech company leasing activity increased slightly to 7.2 million sq. ft. as sentiment for further growth in the industry continues. Other fundamentals remain on track with venture capitalists funding $14.3 billion to private companies during the first quarter and the industry adding 70,500 jobs.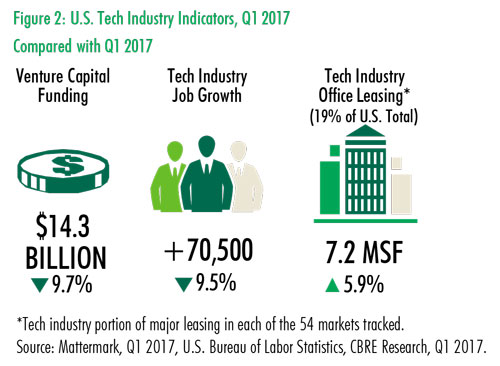 Download Americas tech industry overview:
This disclaimer shall apply to CBRE Limited, Real Estate Brokerage, and to all other divisions of the Corporation; to include all employees and independent contractors ("CBRE"). The information set out herein, including, without limitation, any projections, images, opinions, assumptions and estimates obtained from third parties (the "Information") has not been verified by CBRE, and CBRE does not represent, warrant or guarantee the accuracy, correctness and completeness of the Information. CBRE does not accept or assume any responsibility or liability, direct or consequential, for the Information or the recipient's reliance upon the Information. The recipient of the Information should take such steps as the recipient may deem necessary to verify the Information prior to placing any reliance upon the Information. The Information may change and any property described in the Information may be withdrawn from the market at any time without notice or obligation to the recipient from CBRE. CBRE and the CBRE logo are the service marks of CBRE Limited and/or its affiliated or related companies in other countries. All other marks displayed on this document are the property of their respective owners. All Rights Reserved.