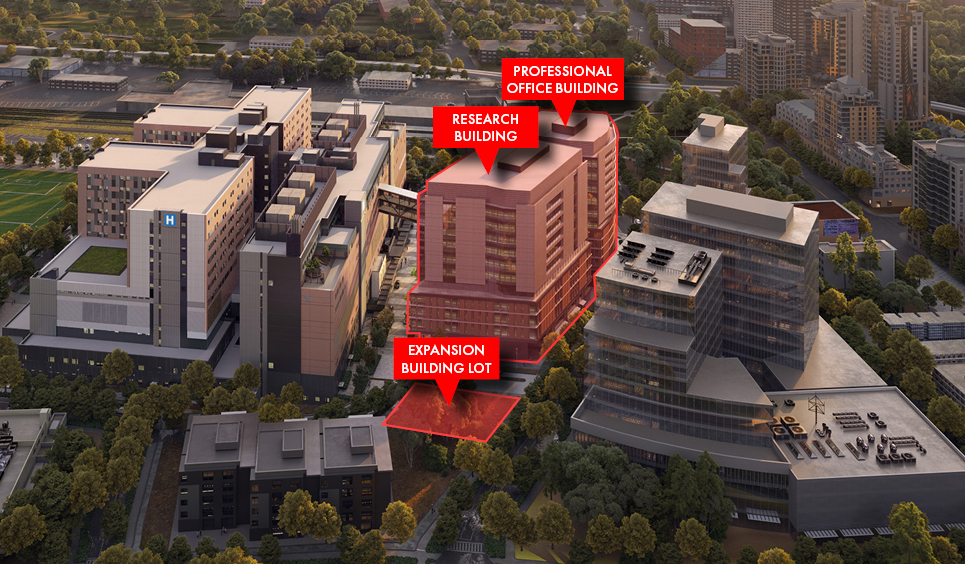 There is no question that the pandemic has underscored the importance of life sciences and revealed existing gaps in our health care system. Canada has lagged in supplying commercial real estate to nurture this essential, fast-growing industry. More space is needed to further life sciences and foster synergy and natural collision between thought leaders in industry and academia. The Clinical Support and Research Centre (CSRC) is poised to fill this gap, further supporting Vancouver as a world-class medical and health care innovation hub.
In the words of B.C.'s former Innovation Commissioner, "Potential exists, with focus, to develop a major, globally-recognized health R&D flagship precinct, as part of the development of the new St. Paul's hospital and health campus." ( BC Innovation Commissioner's Report, 2020).
The CSRC is an over 680,000 sq. ft. new, state-of-the-art technology, medical, and research complex that will be situated directly adjacent to the new St. Paul's Hospital at the Jim Pattison Medical Centre, an 18.4-acre health campus in the False Creek Flats. St. Paul's – the flagship hospital for Providence Health Care – has a long, illustrious history of health science research impacting people around the world. The hospital led the way for treatments to stop people from dying from HIV/AIDS; pioneered TAVR, the minimally-invasive heart valve replacement procedure; leads North America in improving the lives of people dealing with COPD; and is developing ways to treat and prevent the effects of COVID. Locating PHC's outstanding researchers directly next to the new St. Paul's Hospital will stimulate the integration between scientific discovery and clinical service delivery that exists today, extracting outsize value and allowing rapid translation of research findings into better patient care and outcomes.
Anticipated for completion in Q1, 2027, the CSRC programming will consist of a three-building, fully integrated campus facility offering a full spectrum of spaces, including wet lab, vivarium, innovation, incubation, medical and office spaces, totalling over 680,000 square feet.
The Providence Health Care Research Institute (PHCRI) and internationally recognized provincial research centres of excellence, including the Centre of Heart/Lung Innovation, BC Centre of Excellence for HIV/AIDS (BCCFE), Centre for Gender & Sexual Health Equity (CGSHE), the Centre for Health Evaluation and Outcomes Science (CHEOS) and the BC Centre on Substance Use (BCCSU) will be in this complex. The PHCRI intends to position the CSRC as a hub for bioengineering, augmented and virtual reality, and simulation with infrastructure for nanotechnology, device prototyping, and 3D bio-printing. To further support the innovation hub and make it attractive to potential industry and academic partners, the CSRC will have tenant resources including meeting rooms, conference rooms, collaboration space, a wide range of start-up services, cafes, retail units, gym, end-of-trip facilities, and a daycare. An Innovation Centre shared between the buildings with 'sandbox' prototyping space is designed to bring people out of their labs and offices and into a space that inspires them to organically share food, ideas, creativity, projects and discovery with other tenants.
The CSRC will bring together the best and brightest researchers, academics, clinicians, business professionals, and policymakers to create North America's largest new health innovation ecosystem.
To learn more about this trailblazing opportunity, contact Blair Quinn via phone at 604-662-5161 or email at blair.quinn@cbre.com.